Amina Technologies Ltd
Understanding and Specifying Invisible Sound Solutions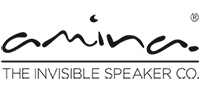 Why Invisible?
Increasing demand for integrated lifestyle-technology combined with the associated 'aesthetic-clutter' that it brings has led to a rise in hidden technology solutions. With 30% of brain power dedicated to visual stimulus and only 2% dedicated to audio, it is clear that the way we 'see' the sound has a huge impact on the way we perceive it. By removing the aesthetic aspect, it allows complete focus on the audio art-form as it was intended.
How does it work?
With the invention of VPT (Vibrational Panel Technology), Amina has been able to take the common loudspeaker design and replace the cone with a flat panel. Instead of moving forwards and backwards visibly like a typical cone design, a VPT panel uses small vibrations to generate sound which can be heard but not seen. This allows for seamless integration of a loudspeaker into any wall, ceiling or flat decorative panel with zero visual impact.
Presentation Details:
This CPD explores the unique options available to architects and interior designers to include invisible sound sources into their projects, for entertainment, ambience, education or safety. It will discuss the properties and benefits of DML (Distributed Mode Loudspeakers), how invisible sound solutions can be created with zero visual impact, sound reproduction and how the listening experience is impacted by the presence, or otherwise, of different parts of the frequency spectrum, speaker requirements for different applications including 3D sound, and options for fire barriers and voice evacuation where required. By the end of the presentation you should have a greater understanding of:
How to speak with confidence to clients about invisible sound solutions in both residential and commercial projects
What materials can be used in an interior design to render speakers invisible besides a plaster skim and likely impact on sound quality of differing options
How to provide outline specification of options to clients for sound solutions using DML
You can watch this presentation online for free. You will be sent a CPD certificate after watching the video presentation.
Register your details using the online form and get instant access!
This presentation is provided by Amina Technologies Ltd
Address Cirrus House, Huntingdon, PE29 7DL
Website: www.aminasound.com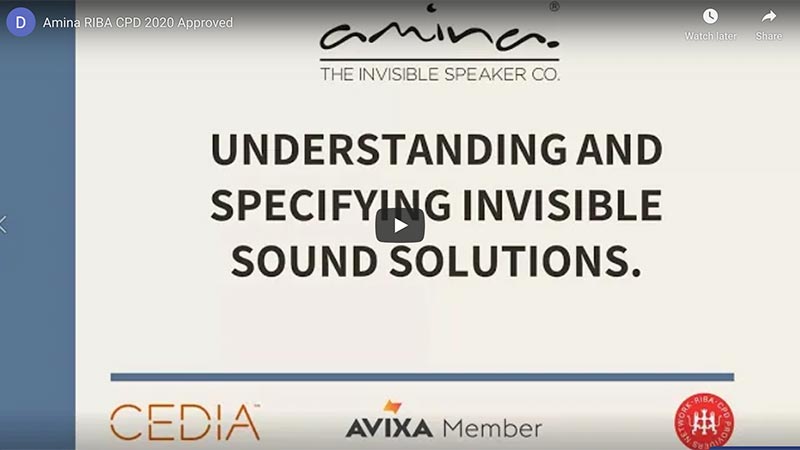 Simply enter your details into the form below to register and watch this presentation. It's completely free!
Please note: Your details will be passed onto the CPD provider.